Loan Amortization Schedule
The selected loan's amortization schedule can be generated by selecting Loan >
Loan Amortization Schedule.
Enter a Name and Notes for the amortization schedule if needed. These are displayed at the top of the amortization schedule.
Set a date through which to run the amortization. By default the amortization will run through the loan's maturity date.
NLS 5.9 and later
The payment amount may be modified for the amortization schedule. Click

Reset To Default Values to restore the original value.
| | |
| --- | --- |
| Apply past due balance of <0.00> today | Selected by default. Any existing past due balance is applied before generating the amortization schedule. |
| Apply Regular payment amount until balance is paid | Next payment is started at the regular payment on the next due date on the amortization schedule then accrue forward until zero balance. |
| Apply | Specify the amount and the date of the payment to be applied from where the amortization is run until zero balance. |
Click

Display Amortization to generate the amortization schedule.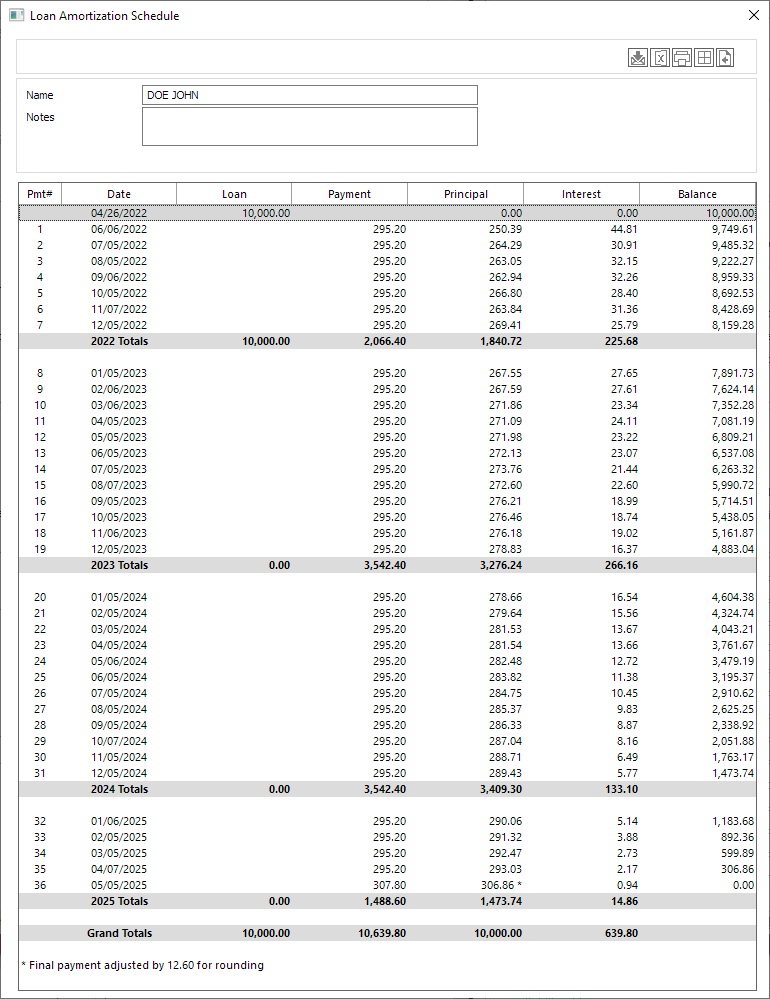 | | |
| --- | --- |
| Save to Correspondence | A dialog will appear for adding the amortization schedule as a text document under Comments & Documents. |
| Export to Excel | The amortization schedule will open in Microsoft Excel. |
| Print | Standard print dialog will appear. |
| Show Gridlines | Toggles the display of grid lines separating the cells of the amortization schedule. |
| Back | Closes the schedule and returns to the previous dialog. |