Message of the Day
NLS 4.11.16 and later
NLS 5.13 and later
NLS can be configured to display a message in a popup window when a user successfully logs into a database.
This feature must first be enabled in Setup > System > System Defaults > Miscellaneous > Message of the Day. After restarting NLS the Message of the Day setup item will appear under System setup.
Click

to create a new message.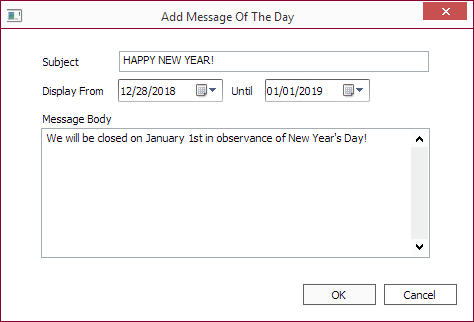 Enter a subject for the message, set the dates on which to display the message, and the message to be displayed.
Note
Multiple messages may be configured but only one message can be displayed on a given date. Creating a new message whose date overlaps an existing message's date is not permitted so the existing message must first be deleted

or modified

if a conflict occurs.
Once configured a dialog will appear with the message when a user logs into NLS within the specified date.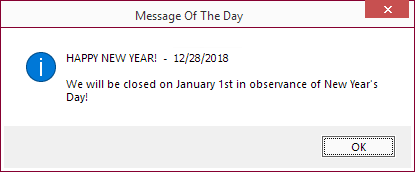 Security
Privileges (view, update, add, and delete) for the Message of the Day setup may be assigned in System > Message of the Day.