Nortridge Mail Source
Nortridge MailSource is an integrated service by Nortridge Software, in partnership with Doxim (formerly Allison Payment Systems), which handles statement generation, printing, and mailing. Cost is on a sliding scale which provides volume discounts. Call your Nortridge Software sales representative or email jmckee@nortridge.com for the current service pricing/postage structure sheet.
Statement File For Mail Source
Your statement format must be configured for use with MailSource. If you use a standard NLS Statement format, simply load the latest report pack to update your statement file. The standard statements in the report pack have been modified to be usable with MailSource. If you use a custom statement, that statement will need to be modified for use with MailSource. Contact your Nortridge Software representative regarding modification to your custom statement.
Logging on to MailSource
Starting with NLS version 4.8.7, the system will send out a web services call on login and connect to a database of MailSource users. If you are up and running on MailSource, then your license key serial number will appear in that database, and the web services call will activate the MailSource features automatically.
Statement Processing for MailSource
Select statements to process and click

Send to Document Queue. The statements will be generated and processed similar to "Process Statements Without Printout." An image of each statement will go into the comments and documents on the corresponding loan, and the individual statements and the entire run will both be available from the reprint statements menu. In addition, a binary file of the entire print run will be stored to the document queue. From there, it may either be sent to the printer at your leisure, or transmitted to Nortridge Software for processing.
Transmitting the Document Queue
Go to the Processing slider and click Document Printing Go to

Processing >

Document Printing. Here you will see a list of all un-transmitted and unprinted print runs. The total number of statements, total pages, and file size will be displayed in addition to the statement code that was used to generate the run. Initiate a print run by selecting the Selected option and then either click

Print Locally

Print or

Send to MailSource on the Toolbarribbon bar.
If you click Send to MailSource, you will get a screen with pricing information, where you may enter information for the processing of your payment to Nortridge Software. You will select a checkbox to accept the charge and click to transmit the print run.
NLS 5.13 and later
A document can be removed from the queue at this stage by right clicking on the item and selecting
Delete
.
shift
key and click
Document Image
to display the document with bar codes in place.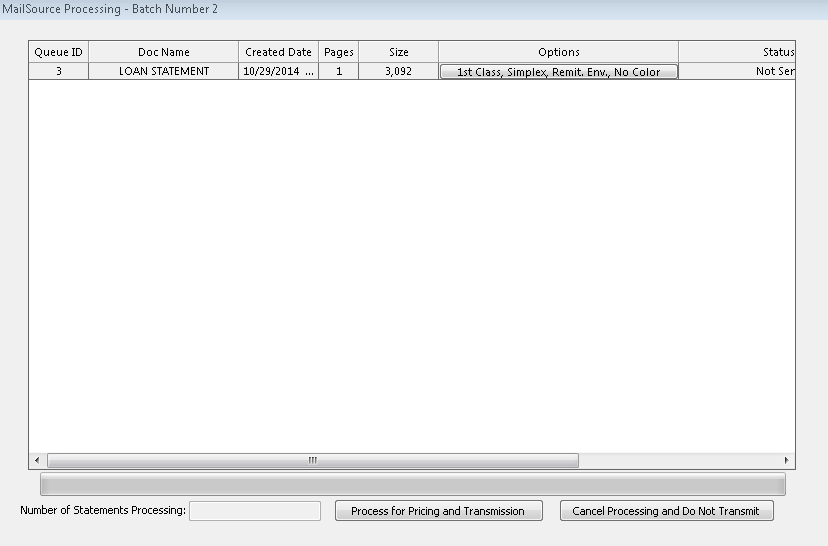 Once transmitted, the print run will arrive at the MailSource Server where your payment will be processed. The file will be combined with all of the print runs from other clients that arrive that day and the resulting file will be transmitted to Doxim, where the statements will all be printed, stuffed into windowed envelopes, marked with postage, and mailed.